Hi! Thanks for clicking. This was my first build and I'm excited to return to Smite to find out my main squeeze Artemis went from C tier trash to S+ broken tier ADC! She's not as broken anymore with the updates but all the buffs she's received has finally made her into a very popular, powerful ADC choice in the meta. xZeroStrike has an excellent in-depth guide already out there which helped me out a lot. I'm just going over builds and I'm not sure why this got tagged as "in-depth guide" but I'm a build junkie. If you'd like to read his guide to learn Artemis and how to play her you can check it out here: A much better Guide on Artemis than I could ever make. So let's talk about my favorite hunter.


Are you tired of missing your wall bounces on

Hou Yi? Are you tired of missing your axes on

Ullr? Are you tired of missing your snipes with

Rama? Do you hate when people beads your ultimate as

Heimdallr? Are you tired of playing

Cupid... because he's Cupid. Well ladies and gentlemen do I have the solution for you! Introducing:



Her

Calydonian Boar
is a stun you literally can't miss with. It hits multiple people within the radius. Her traps

Transgressor's Fate
will make your enemies feel like Sideshow Bob stepping on a dozen rakes. With the recent buff her trap are now on much faster cooldowns meaning you can spam them till your heart's content. She has one the best passives for hunters and attack speed/movement speed buff with

Vengeful Assault
only adds to her overwhelming attack speed. And finally her AoE

Suppress The Insolent
has a nice width to it while doing decent damage.

Calydonian Boar
might honestly be the best ultimate in any hunter's arsenal. The boar will target a cone like area in front of you line of you stunning them while doing decent damage, then chases down anyone else in circle radius with good range one by one. With some items in you bag you can run from one squishy to the next killing them off as Miss Piggy does her thing. This really is in my
opinion
the best hunter ultimate in the game and the entire reason to pick her. The stun is really unique as well where it doesn't stun all your enemies at once in an AoE, no instead it stuns enemies one by one with a small pause in between. Why is that good? Because with a full build you could easily kill a squishy in the time they're stunned and then target the next person the Boar stuns after. It's like having a personal support CC enemies for you one by one to get easy kills. This ultimate is built for triple kills.
Ranked Warning
This is a very easy to learn hunter. However mastering her will take a lot of practice but you'll be rewarded with having one of the best ADC hunters in your arsenal. The real difficulty in learning Artemis is positioning. This is one hunter you cannot afford to be out of position on. I don't know how many times I mention she has no escape in this guide(?) but I will mention it a million more times as it's the reason she's so difficult to use on ranked. Playing Artemis in ranked might be the toughest hunter to play as. Teams know you're an unstoppable machine gun late game that will wipe whole teams by yourself. They also know you don't have escapes, dashes or leaps and you're bad early game so they'll take advantage of that. They will find you. They will dive you. And they will kill you. Be ever vigilant and proper warding is absolutely required to know where jungle will be coming from to gank you. Don't just ward your lanes, ward the enemy purple buff, ward the enemy red buff, don't be afraid to deep ward in enemy lines because knowing where the jungle is most of the game will help you out. Learning to play Artemis requires learning from mistakes. And as Artemis you'll be punished for any little mistakes make. But it's worth it for those games you reach your full build and completely take control of team fights with your insane damage and pressure. Artemis is fun late game. You just have to survive till then.
I'll explain my two ADC builds, while the Silverbranch build I made is really just a fun experiment at the moment but it has potential so far.
Anti-Heal
: Anti-Heal on ADC's has always been rather niche since but with the new update I'm pleased to say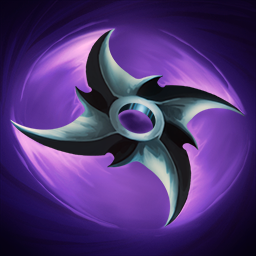 Shadowsteel Shuriken
actually feels a lot better than

Toxic Blade
if you're doing a crit build
. The movement speed on Toxic Blade is nice and I still find myself building it if I need that but Shadowsteel's stats on top of high crit chance builds makes it a great choice. With these builds you're pretty much guaranteed to get a crit almost every auto and one crit applies the full anti heal.